ten recommendations from the RSS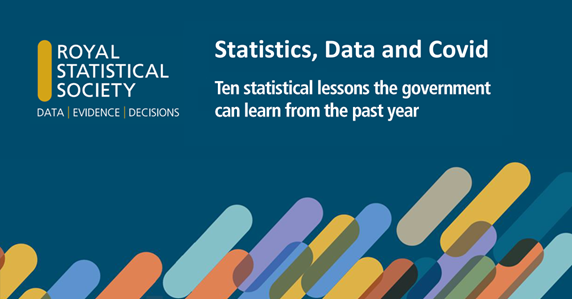 'Statistics have been crucial both to our understanding of the pandemic and to our efforts to fight it. While we hope we won't see another pandemic on this scale, we need to see a culture change now – with more transparency around data and evidence, stronger mechanisms to challenge the misuse of statistics, and leaders with statistical skills.'
Invest in public health data – which should be regarded as critical national infrastructure and a full review of health data should be conducted
Publish evidence – all evidence considered by governments and their advisers must be published in a timely and accessible manner
Be clear and open about data – government should invest in a central portal, from which the different sources of official data, analysis protocols and up-to-date results can be found
Challenge the misuse of statistics – the Office for Statistics Regulation should have its funding augmented so it can better hold the government to account
The media needs to step up its responsibilities – government should support media institutions that invest in specialist scientific and medical reporting
Build decision makers' statistical skills – politicians and senior officials should seek out statistical training
Build an effective infectious disease surveillance system to monitor the spread of disease – the government should ensure that a real-time surveillance system is ready for future pandemics
Increase scrutiny and openness for new diagnostic tests – similar steps to those adopted for vaccine and pharmaceutical evaluation should be followed for diagnostic tests
Health data is incomplete without social care data – improving social care data should be a central part of any review of UK health data
Evaluation should be put at the heart of policy – efficient evaluations or experiments should be incorporated into any intervention from the start.
This entry was posted on March 21, 2021 at 12:21 am and is filed under Statistics, University life with tags all models are wrong, intervention, media, misuse of Statistics, Office for Statistics Regulation, official statistics, pandemic, public health system, Royal Statistical Society, RSS, social care data, United Kingdom. You can follow any responses to this entry through the RSS 2.0 feed. You can leave a response, or trackback from your own site.
This site uses Akismet to reduce spam. Learn how your comment data is processed.