human data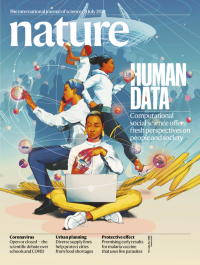 Due to a mishap in the handling of my Nature subscription, I received six issues at once when returning from vacations… Among which the 8 July issue with a special focus on computational social science, including five "perspective" articles on this topic.
"The need to blend expertise in the social sciences with the skills required to collect, clean and analyse large data sets means that computational social science requires teams of researchers who can field a remarkably diverse set of expertise and skills"
These perspective articles are however rather bland and mostly generic, beyond the feel-good call to protect privacy, counter biases, acknowledge the observational nature of most of the available data and the behavioural impact of the many algorithms interacting with us. The only formula appearing in the collection is the linear regression prediction ŷ=βx, which offers four different interpretations whether or no there are interventions, and if the fovus is on explanation or prediction (referring to Breiman's two cultures in passing).
"Using computers to analyse large data sets dates back to the earliest mainframe computers — and has been central to the work of actuaries and national statistics offices, both of which have long been important resources for studies of society and people."
I am also very chagrined by the almost complete absence of references to statistics, the sole article clearly mentioning the term actually involving statistical physics! With a reference to Ising and Potts models to analyse social networks. While the one on algorithmically infused societies sees statistical and machine learning models as potentially harmful. Or as being misleadingly explanatory. But no discussion of the statistical meaning of model assessment and of multiscale model building. (To be fair, the references list all include links to statistics papers.)
This entry was posted on August 28, 2021 at 12:21 am and is filed under Books, Statistics with tags algorithmically infused societies, computational social science, Ising model, Leo Breiman, linear regression, machine learning, Nature, Potts model. You can follow any responses to this entry through the RSS 2.0 feed. You can leave a response, or trackback from your own site.
One Response to "human data"
Ugh! Using the Ising and Potts models to analyze social networks—how horrible!

Can't those underemployed physicists design some new bombs or something, rather than polluting our scientific journals with junk social science?
This site uses Akismet to reduce spam. Learn how your comment data is processed.