a message from the Editor of Statistics & Computing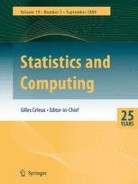 [This is a message from Ajay Jasra, new Editor in Chief of Statistics & Computing, regarding submissions (and another stone in Springer's garden).]
Subject: New Submissions at Statistics and Computing
Dear Prospective Authors,
As you may be aware Springer has introduced a new system for the management of article submissions. Despite my best efforts, there are several missing functionalities which make efficient management of article submissions virtually impossible. We do expect the system to be fixed by the new year, but that does not help us in the short-term.
I would please request all new submissions, until further notice, to be made on the old editorial manager:
https://www.editorialmanager.com/stco/default1.aspx
so that we can properly handle your manuscript.
Kind Regards,
Ajay Jasra
EIC Statistics & Computing
This entry was posted on July 15, 2022 at 12:22 am and is filed under Books, Statistics, University life with tags academic journals, commercial editor, message, Springer Nature, Statistics and Computing, submission. You can follow any responses to this entry through the RSS 2.0 feed. You can leave a response, or trackback from your own site.
This site uses Akismet to reduce spam. Learn how your comment data is processed.