Archive for agent-based models
Posted in
Books
,
Kids
,
Statistics
,
University life
with tags
agent-based models
,
algorithmic policing
,
all models are wrong
,
George Floyd
,
Nature
,
non-violence
,
police
,
racism
,
systemic bias
,
systemic racism
on June 24, 2020 by xi'an
Posted in
Books
,
pictures
,
Statistics
,
Travel
,
University life
with tags
agent-based models
,
awful graphs
,
calibration
,
COVID-19
,
credible intervals
,
epidemiology
,
Nature
,
ODEs
,
predictive analytics
,
SIR
,
UK
,
United Kingdom
on April 30, 2020 by xi'an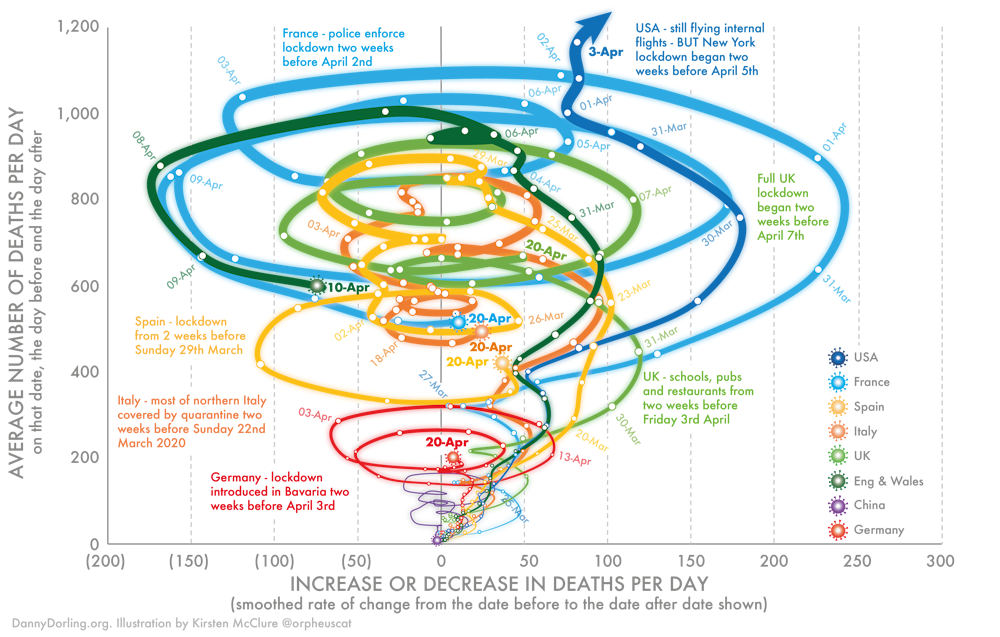 Nature of 02 April 2020 has a special section on simulation methods used to assess and predict the pandemic evolution. Calling for caution as the models used therein, like the standard ODE S(E)IR models, which rely on assumptions on the spread of the data and very rarely on data, especially in the early stages of the pandemic. One epidemiologist is quote stating "We're building simplified representations of reality" but this is not dire enough, as "simplified" evokes "less precise" rather than "possibly grossly misleading". (The graph above is unrelated to the Nature cover and appears to me as particularly appalling in mixing different types of data, time-scale, population at risk, discontinuous updates, and essentially returning no information whatsoever.)
"[the model] requires information that can be only loosely estimated at the start of an epidemic, such as the proportion of infected people who die, and the basic reproduction number (…) rough estimates by epidemiologists who tried to piece together the virus's basic properties from incomplete information in different countries during the pandemic's early stages. Some parameters, meanwhile, must be entirely assumed."
The report mentions that the team at Imperial College, which predictions impacted the UK Government decisions, also used an agent-based model, with more variability or stochasticity in individual actions, which require even more assumptions or much more refined, representative, and trustworthy data.
"Unfortunately, during a pandemic it is hard to get data — such as on infection rates — against which to judge a model's projections."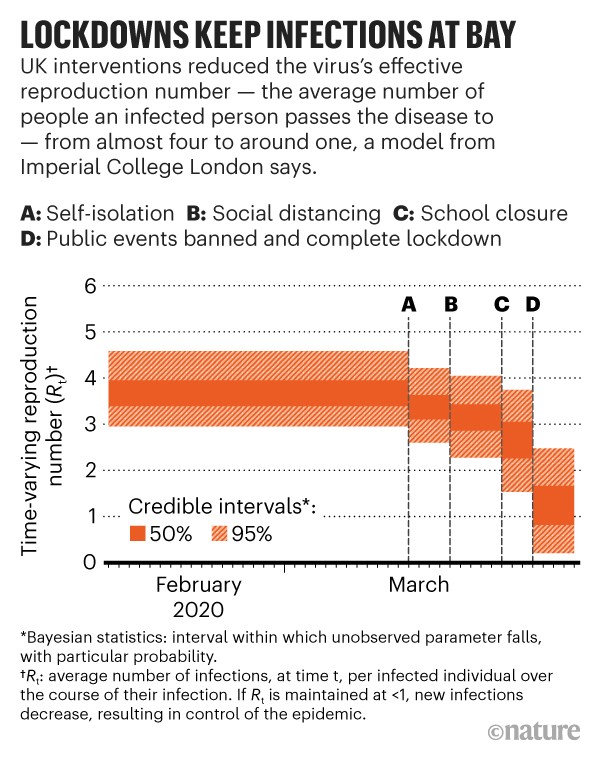 Unfortunately, the paper was written in the early days of the rise of cases in the UK, which means predictions were not much opposed to actual numbers of deaths and hospitalisations. The following quote shows how far off they can fall from reality:
"the British response, Ferguson said on 25 March, makes him "reasonably confident" that total deaths in the United Kingdom will be held below 20,000."
since the total number as of April 29 is above 21,000 24,000 29,750 and showing no sign of quickly slowing down… A quite useful general public article, nonetheless.
Posted in
Books
,
pictures
,
Statistics
with tags
agent-based models
,
climate change
,
data
,
drug users
,
Nature
,
Philadelphia
,
prior predictive
,
Sims
,
simulation model
on October 2, 2018 by xi'an
An August issue of Nature I recently browsed [on my NUS trip] contained a news feature on agent- based models applied to understanding the opioid crisis in US. (With a rather sordid picture of a drug injection in Philadelphia, hence my own picture.)
To create an agent-based model, researchers first 'build' a virtual town or region, sometimes based on a real place, including buildings such as schools and food shops. They then populate it with agents, using census data to give each one its own characteristics, such as age, race and income, and to distribute the agents throughout the virtual town. The agents are autonomous but operate within pre-programmed routines — going to work five times a week, for instance. Some behaviours may be more random, such as a 5% chance per day of skipping work, or a 50% chance of meeting a certain person in the agent's network. Once the system is as realistic as possible, the researchers introduce a variable such as a flu virus, with a rate and pattern of spread based on its real-life characteristics. They then run the simulation to test how the agents' behaviour shifts when a school is closed or a vaccination campaign is started, repeating it thousands of times to determine the likelihood of different outcomes.
While I am obviously supportive of simulation based solutions, I cannot but express some reservation at the outcome, given that it is the product of the assumptions in the model. In Bayesian terms, this is purely prior predictive rather than posterior predictive. There is no hard data to create "realism", apart from the census data. (The article also mixes the outcome of the simulation with real data. Or epidemiological data, not yet available according to the authors.)
In response to the opioid epidemic, Bobashev's group has constructed Pain Town — a generic city complete with 10,000 people suffering from chronic pain, 70 drug dealers, 30 doctors, 10 emergency rooms and 10 pharmacies. The researchers run the model over five simulated years, recording how the situation changes each virtual day.
This is not to criticise the use of such tools to experiment with social, medical or political interventions, which practically and ethically cannot be tested in real life and working with such targeted versions of the Sims game can paradoxically be more convincing when dealing with policy makers. If they do not object at the artificiality of the outcome, as they often do for climate change models. Just from reading this general public article, I thus wonder at whether model selection and validation tools are implemented in conjunction with agent-based models…