Archive for coupling
Posted in
Books
,
Statistics
,
University life
with tags
Bernoulli distribution
,
Constrained Monte Carlo
,
coupling
,
coupling from the past
,
quicksort
,
simulation
on February 22, 2021 by xi'an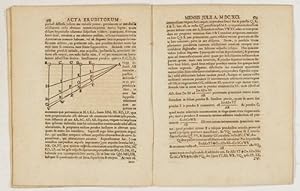 Jeremy Heng, Pierre Jacob [currently in Paris!] and Nianqiao Ju are in a recent arXival considering the simulation of a conditional Bernoulli, namely generating a vector of N Bernoullis with different probabilities under the constraint that their sum is fixed as I. Rather than going for a perfect simulator, with cost O(NI), they opt for the simplest of MCMC samplers, where a 0 and a 1 entries are exchanged at random. In connection with a recent spate of MCMC works using coupling, they establish convergence in O(N log N) steps, even when the probabilities are arbitrarily close to zero and one. Including the case when they are Uniformly generated. From a mundane perspective, I wonder at the appeal of using the probabilities to select the exchange pair. I realise sorting the probabilities is already of order O(N log N) avoiding selecting highly probable 1's and highly probable 0's should speed up converge, unless the gain is negligible. And to link MCMC and exact simulation in this setting, what would the cost of perfect sampling by sampling from the past be? Presumably much higher since there is little chance a total ordering can be found on the starting states.