Archive for Earth
Posted in
Mountains
,
pictures
,
Travel
with tags
Cathedral Gorge State Park
,
comets
,
Earth
,
image of the week
,
NASA
,
Nature
,
Nevada
,
USA
on August 12, 2020 by xi'an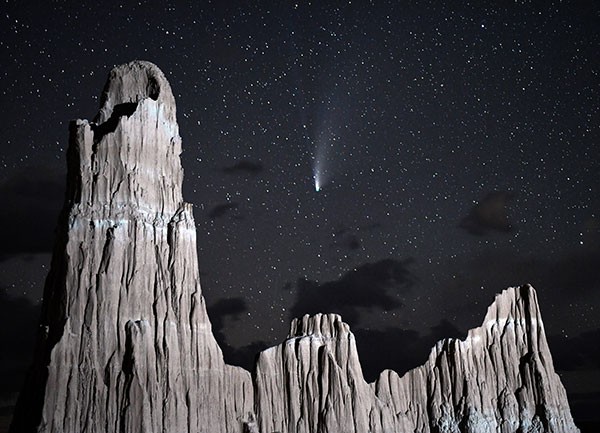 Posted in
Books
,
Kids
,
Travel
with tags
Avatar
,
book review
,
Earth
,
Ender's Game
,
Melbourne
,
Orson Scott Card
,
Philosophy of religions
,
Portugal
,
science fiction
,
Speaker for the Dead
,
Travel
,
Xenocide
on October 8, 2016 by xi'an
Here is another book I bought for next to nothing at Beers Book Center in Sacramento. I have read several times Ender's Game, which I consider as a major science-fiction book, for the fantastic plot, the psychological analysis of the main character, and the deeper reflections about the nature of war and the extermination of other forms of life, even when those are extremely alien. For one reason or another, I never had the opportunity to read the sequel trilogy, which starts with Speaker for the Dead. The 37 hour trip back home from Melbourne was a perfect opportunity to catch up and I read this 1986 instalment in the plane, once I was too tired to read statistics papers on my computer screen. It is a very good (if not major) book, with a lot of threads to philosophy, ethics, ethnology, and (almost) no hard science-fi' line in that most of the story takes place in a very limited universe, a town on a monotone planet (monotone as in mono-tone, for it enjoys no diversity in both flaura and fauna), with a prohibited access to the rest of the planet, and sentient if alien autochtones. The main plot is thus centred on uncovering the culture and specifics of those autochtones, under strict regulations (from the central planet) preventing cultural contaminations. Or aimed at preventing, as contamination does occur nonetheless. The new culture is quite fascinating in the intricate symbiosis between flaura and fauna, a theme repeated (differently) in Avatar. This progressive uncovering of what first appears as primitive, then cruel, is great. The influence of the Catholic Church is well-rendered, if hard to believe that many centuries in the future, as is the pan- and extra-humanist vision of Ender himself. The concept of Speaker for the Dead is by itself just brilliant! What I like less in the story is the very homely feeling of being in a small provincial town with gossips from everyone about everyone and a lack of broader views. Not that I particularly lean towards space operas, but this secluded atmosphere is at odds with the concept of hundreds of colonised planets by colons from Earth. In particular, assuming that each planet is colonised by people from the same place and culture (Portugal in the current case) does not sound realistic. Anyway, this is a good book and I would have read the sequel Xenocide, had I had it with me during this looong trip.