Archive for freedom of religion or belief
Posted in
Books
,
Kids
with tags
Catrooning for Peace
,
Charlie Hebdo
,
collège
,
Conflans-Sainte-Honorine
,
fanaticism
,
France
,
freedom of religion or belief
,
freedom of speech
,
French education ministry
,
history education
,
humanism
,
laïcité
,
political cartoon
,
rationalism
,
Samuel Paty
,
secularism
on October 17, 2022 by xi'an
Posted in
Books
,
Kids
,
Travel
with tags
abortion
,
Catholic Church
,
freedom of religion or belief
,
gender equality
,
Malta
,
religious beliefs
,
religious right
,
reproductive rights
,
UK Government
on August 27, 2022 by xi'an
"Certain practices associated with the manifestation of a religion or belief, or perceived as such,may constitute violations of international human rights standards. The right to freedom of religion or belief is sometimes invoked to justify such violations. The EU firmly opposes such justification, whilst remaining fully committed to the robust protection and promotion of freedom of religion or belief in all parts of the world. Violations often affect women, members of religious minorities, as well as persons on the basis of their sexual orientation or gender identity." EU Guidelines on the promotion and protection of freedom of religion or belief, 2013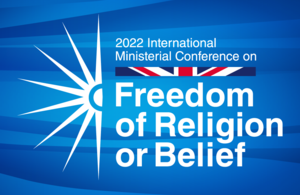 On 5 and 6 July 2022 the UK Government hosted a human rights conference to urge increased global action on Freedom of Religion or Belief (FoRB) for all. (Countries involved in this International Freedom of Religion or Belief Alliance do not include Belgium, France, Germany, Portugal, Spain, or Switzerland, in the signatories. I am also unclear about the final purpose of this conference, beyond good-will statements.) Among several such statements, one brings a connection between FoRB and gender equality.
 The statement in its original format is quite mush-y-mash-y, as methinks promoting (one's) religion rarely walks hand in hand with supporting (all) gender equality and even less reproductive rights. Witness the Catholic Church's unremitting activism against abortion, up to this day, from Poland to the US.
"As such, FoRB serves not only to protect people from discrimination, inequality, and violence; it can also serve as a source of empowerment for those who find inspiration and strength in their convictions to fight for gender equality and justice." Statement on freedom of religion or belief and gender equality, 7 July 2022
But the main issue here is that the final statement published by the UK Government eliminated reproductive rights that were present in the original version, as of below, which was signed by many of the participating countries. Without said countries being informed of the cancellation and some now refusing to sign the new version…
"…support and build capacities of local religious and belief leaders to advocate for gender equality, denounce sexual and gender-based violence and harmful practices and ensure access to sexual and reproductive health and rights". Statement on freedom of religion or belief and gender equality, 7 July 2022
This is sadly connected with the unceasing attacks of religions on abortion rights. For instance, Malta suddenly appeared as a signatory of the final version, while missing from the earlier one. Which may have a correlation with Malta being a country where abortion is completely prohibited. (Nor Poland neither the USA have signed either.) And the (former) prime minister's special envoy is co-chairing the MP "pro-life" group (funded by the anti-abortion "Right to Life UK" "charity").
Posted in
Books
,
pictures
with tags
Charlie Hebdo
,
freedom of expression
,
freedom of press
,
freedom of religion or belief
,
fundamentalism
,
Le Monde
,
Philosophy of religions
,
Salman Rushdie
on August 18, 2022 by xi'an
[Reposted a tribune by the Charlie Hebdo writers in Le Monde, 15 August]
The assassination attempt on Salman Rushdie is a reminder to those who seem to have forgotten that the basic freedoms of modern society, such as the freedom to create and express oneself, are constantly threatened by totalitarian ideologies around the world.
These hateful and contemptuous ideologies are based on political or religious theories whose self-proclaimed legitimacy raises questions. Salman Rushdie's case forces us to question the place of religion and sacredness in our modern world.
If freedom of conscience gives each person the right to think what he or she wants about the origin of the world and its creation, the truths of religious revelation cannot impose their precepts on the whole of society. But for several years, we have noticed that religious practices are becoming more and more intrusive and authoritarian – when they are not outright threatening. This slippery slope seriously affects the subtle balance of democratic societies and creates a climate of insecurity, intimidation and violence that is no longer acceptable.
This is the goal of religious fanatics: to dissuade, through terror, the creation of works that challenge their dogmas, which are based on little more than a few visions from great mystics.
Can our modern societies be built around texts written by exalted minds? Nothing is sacred. The paradox is that today the mobilization to condemn the attack on Salman Rushdie seems stronger than the mobilization of artists to continue producing works that will perpetuate his vision. After those who have already been murdered, like Theo Van Gogh, and those who get stabbed during lectures, like Salman Rushdie, who will be left to continue their thinking and their struggle?
While global warming endangers living organisms on Earth, religious intolerance and unbridled mysticism threaten minds by suffocating them with prohibitions and irrevocable sentences.
To those who repeat: "We love death as much as you love life", we must oppose limitless creativity and incessant insolence. No amount of moderation will allow us to enjoy the slightest indulgence from fanatics. The response must not only be political, through laws that protect freedoms and repress those who attack them. It must also be cultural and intellectual. We must never cease to challenge, using arguments and ideas, the dogmas and narratives of these so-called "sacred" books, which seek only to burn all others and to put to death those who wrote them.