"Certain practices associated with the manifestation of a religion or belief, or perceived as such,may constitute violations of international human rights standards. The right to freedom of religion or belief is sometimes invoked to justify such violations. The EU firmly opposes such justification, whilst remaining fully committed to the robust protection and promotion of freedom of religion or belief in all parts of the world. Violations often affect women, members of religious minorities, as well as persons on the basis of their sexual orientation or gender identity." EU Guidelines on the promotion and protection of freedom of religion or belief, 2013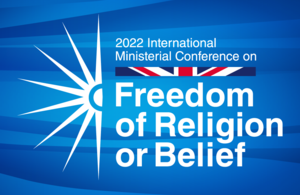 On 5 and 6 July 2022 the UK Government hosted a human rights conference to urge increased global action on Freedom of Religion or Belief (FoRB) for all. (Countries involved in this International Freedom of Religion or Belief Alliance do not include Belgium, France, Germany, Portugal, Spain, or Switzerland, in the signatories. I am also unclear about the final purpose of this conference, beyond good-will statements.) Among several such statements, one brings a connection between FoRB and gender equality.
 The statement in its original format is quite mush-y-mash-y, as methinks promoting (one's) religion rarely walks hand in hand with supporting (all) gender equality and even less reproductive rights. Witness the Catholic Church's unremitting activism against abortion, up to this day, from Poland to the US.
"As such, FoRB serves not only to protect people from discrimination, inequality, and violence; it can also serve as a source of empowerment for those who find inspiration and strength in their convictions to fight for gender equality and justice." Statement on freedom of religion or belief and gender equality, 7 July 2022
But the main issue here is that the final statement published by the UK Government eliminated reproductive rights that were present in the original version, as of below, which was signed by many of the participating countries. Without said countries being informed of the cancellation and some now refusing to sign the new version…
"…support and build capacities of local religious and belief leaders to advocate for gender equality, denounce sexual and gender-based violence and harmful practices and ensure access to sexual and reproductive health and rights". Statement on freedom of religion or belief and gender equality, 7 July 2022
This is sadly connected with the unceasing attacks of religions on abortion rights. For instance, Malta suddenly appeared as a signatory of the final version, while missing from the earlier one. Which may have a correlation with Malta being a country where abortion is completely prohibited. (Nor Poland neither the USA have signed either.) And the (former) prime minister's special envoy is co-chairing the MP "pro-life" group (funded by the anti-abortion "Right to Life UK" "charity").