Archive for Hungary
Posted in
Books
,
pictures
,
Statistics
with tags
American elections 2016
,
awful graphs
,
electoral maps
,
genes
,
genomics
,
gerrymandering
,
human genome
,
Hungary
,
Nature
on July 15, 2018 by xi'an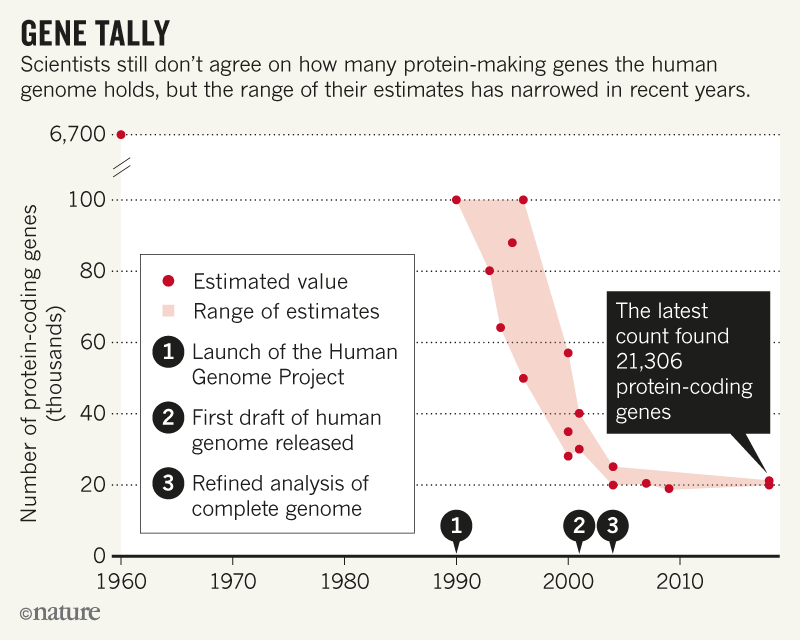 Apart from the above graph from Nature, rendering in a most appalling and meaningless way the uncertainty about the number of active genes in the human genome, I read a couple of articles in this issue of Nature relating to the biases and dangers of societal algorithms. One of which sounded very close to the editorial in the New York Times on which Kristian Lum commented on this blog. With the attached snippet on what is fair and unfair (or not).
The second article was more surprising as it defended the use of algorithms for more democracy. Nothing less. Written by Wendy Tam Cho, professor of political sciences, law, statistics, and mathematics at UIUC, it argued that the software that she develops to construct electoral maps produces fair maps. Which sounds over-rosy imho, as aiming to account for all social, ethnic, income, &tc., groups, i.e., most of the axes that define a human, is meaningless, if only because the structure of these groups is not frozen in time. To state that "computers are impervious to the lure of power" is borderline ridiculous, as computers and algorithms are [so far] driven by humans. This is not to say that gerrymandering should not be fought by technological means, especially and obviously by open source algorithms, as existing proposals (discussed here) demonstrate, but to entertain the notion of a perfectly representative redistricting is not only illusory, but also far from democratic as it shies away from the one person one vote  at the basis of democracy. And the paper leaves us on the dark as to whom will decide on which group or which characteristic need be represented in the votes. Of course, this is the impression obtained by reading a one page editorial in Nature [in an overcrowded and sweltering commuter train] rather than the relevant literature. Nonetheless, I remain puzzled at why this editorial was ever published. (Speaking of democracy, the issue contains also warning reports about Hungary's ultra-right government taking over the Hungarian Academy of Sciences.)