Archive for Joyce Fienberg
Posted in
Statistics
,
University life
with tags
David Spiegelhalter
,
Joyce Fienberg
,
Pittsburgh
,
Royal Statistical Society
,
shooting
,
StatsLife
,
Steve Fienberg
on November 4, 2018 by xi'an
Posted in
Statistics
with tags
Joyce Fienberg
,
Paris
,
Pittsburgh
,
Statistical Science
,
Steve Fienberg
,
University of Pittsburgh
,
University of Toronto
on October 28, 2018 by xi'an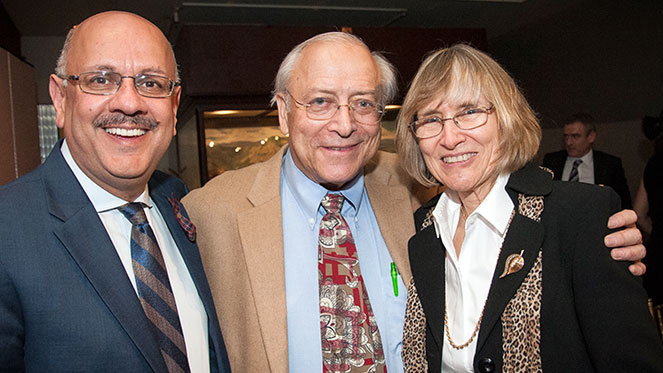 I just learned the horrific news that Joyce Fienberg was one of the eleven people murdered yesterday morning at the Tree of Life synagogue. I had been vaguely afraid this could be the case since hearing about the shooting there, just because it was not far from the University of Pittsburgh, and CMU, but then a friend emailed me she indeed was one of the victims. When her husband Steve was on sabbatical in Paris, we met a few times for memorable dinners. I think the last time I saw her was a few years ago in a Paris hotel where Joyce, Steve and I had breakfast together to take advantage of one of their short trips to Paris. In remembrance of this wonderful woman who got assassinated by an anti-Semitic extremist, here is how Steve described their encounter in his Statistical Science interview:
I had met my wife Joyce at the University of Toronto when we were both undergraduates. I was actually working in the fall of 1963 in the registrar's office, and on the first day the office opened to enroll people, Joyce came through. And one of the benefits about working in the registrar's office, besides earning some spending money, was meeting all these beautiful women students passing through. That first day I made a note to ask Joyce out on a date. The next day she came through again, this time bringing through another young woman who turned out to be the daughter of friends of her parents. And I thought this was a little suspicious, but auspicious in the sense that maybe I would succeed in getting a date when I asked her. And the next day, she came through again! This time with her cousin! Then I knew that this was really going to work out. And it did. We got engaged at the end of the summer of 1964 after I graduated, but we weren't married when I went away to graduate school. In fact, yesterday I was talking to one of the students at the University of Connecticut who was a little concerned about graduate school; it was wearing her down, and I told her I almost left after the first semester because I wasn't sure if I was going to make a go of it, in part because I was lonely. But I did survive, and Joyce came at the end of the first year; we got married right after classes ended, and we've been together ever since.