Read Blood of Empire, the final volume in the Gods of Blood and Powder trilogy. By Brian McClellan. Which I enjoyed reasonably well as bedside literature, although its weight meant it would fall at the slightest hint of sleep… It took me longer than expected to connect to the story, given I had read the previous volume a few months ago. This series is classified as "flintrock fantasy", a category I had never heard of previous, meaning a limited amount of gunpower is used in weapons, along with the aid of magical abilities (for the happy few). The style is a wee bit heavy and repetitive, but the characters are definitely engaging if over-prone to inner dialogues… The only annoying part in the plot is the presence of a super-evil character about to be become a god, which ruins most of the balance in the story.
Had a long-pending due watch at Trainspotting T2. (Loved the NYT label as "Rated R for a bagful of vomit, mouthfuls of bigotry and nosefuls of cocaine", obviously in the same regressive spirit as the film.) This is definitely a sequel to the first film. And hence hardly comprehensible on its own. Except for a few locations like a run-down pub on the edge of nowhere, a flat overlooking a car part dump and Spud's high-rise welfare housing, T2 lacks the gritty vision of Edinburgh found in its forbear. And the characters have lost their toxic edge, except maybe very much maybe for the psychopath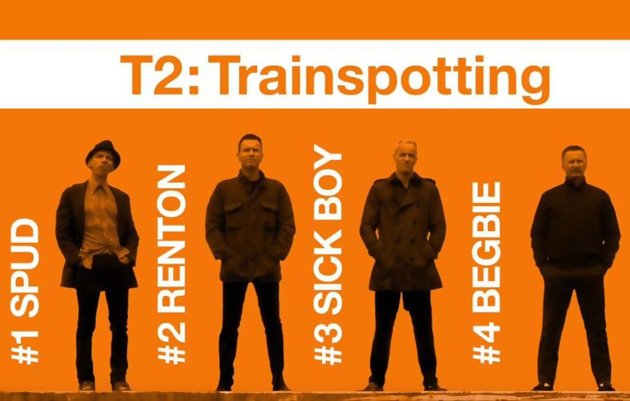 Franck. Even the de rigueur final swindle has a rosy and predictable justification. Fun nonetheless! On the (tourist) side, I enjoyed a mostly superfluous scene where Renton takes Spud running up Arthur's Seat along its most scenic route, with an iconic end image of Edinburgh gradually fading into fog. There is also a surreal (short) scene on Rannoch Mor, with the Oban train stopping at the hikers' stop. (I never managed to start Welsh's books, due to their phonetic rendering of Edniburghian Scots that make reading unbearable..! By comparison, most dialogues are understandable. A funny line when the hostess welcoming tourists at Edinburgh Airport with a mock Scottish accent acknowledges she is from Slovakia.) Camera tricks like fast backward and colour filters a wee bit old-fashioned and heavy-handed, in the spirit of the first movie as if nothing had ever happened since. Maybe the moral of the story. Not looking for a potential T3, though.
Read a forgotten volume in the Bernhard Günther series of Philip Kerr, A man without breath. As usual building on historical events from Nazi Germany to set this ambivalent character at the centre of the action, which is this time the discovery and exploitation of the Katyǹ massacres by the Nazi propaganda to drive an edge between the Soviet Union and the other Allies. The book is rather uneven, with too many plots, subplots, and characters, and open criticisms of the Nazi regime between complete strangers do not ring particularly realistic. And draw attention away from their own massacres, like Babi Yar (celebrated in Dmitri Shostakovitch's Symphony No. 13). Interestingly, given that I read the book at the time of the JSM round-table, a thread in the story links to the Spanish Civil War and the attempt by fascist doctors like Vallejo Nágera to picture left-wing Spaniards as psychiatrically degenerates, fantasying the existence of a "red" gene… (It took me a while to trace the reference in the title to Goebbels' quote "A nation with no religion is like a man without breath." )