Archive for USSR
Posted in
Books
,
Kids
,
pictures
with tags
China
,
Communist Party of China
,
Croissance des Jeunes Nations
,
Czechoslovakia
,
Doctors without Borders
,
Kyiv
,
MSF
,
Prague
,
Prague Spring
,
Russia
,
Soviet Union
,
Ukraine
,
urban guerilla
,
USSR
on March 2, 2022 by xi'an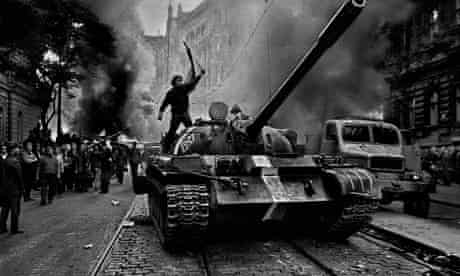 In 1968, I was quite young (!), but I do remember vividly the invasion and repression of Czechoslovakia by troops of the Soviet Union and its satellite states. Maybe because the French public radio [our main source of information then] was quite vocal about it, maybe because my parents were early subscribers of a progressive, anti-colonialist, third-Worldist, Catholic newspaper named Croissance des Jeunes Nations, which I read as well and which mostly covered liberation movements in the Third World, but also the resistance of Czechoslovak people against Soviet tanks… Today these tanks are back, now in Kyiv streets. (With the difference that the China of 1968 denounced in the strongest terms the Soviet invasion.) While the Iron Curtain prevented most inhabitants to flee the country, the death toll was relatively limited, with 108 registered victims. After a few days into the Russian invasion, the toll is already much higher and the increasing bombing of Ukrainian cities is going to see it rise faster and faster. Support Ukraine!