Archive for memristors
Posted in
Books
,
Running
,
Statistics
,
University life
with tags
Bayesian inference
,
Bayesian learning
,
Bayesian machine
,
Bayesian neural networks
,
chip
,
CNRS
,
memristors
,
Nature
,
Nature Electronics
,
news
,
Paris-Saclay campus
on February 7, 2023 by xi'an
Posted in
Statistics
with tags
ABC
,
deep learning
,
DeepMind
,
desert locust
,
Harvard University
,
Human Genetics
,
Isaac Asimov
,
memristors
,
neural network
,
NeurIPS
,
p-values
,
SNPs
,
UCL
,
University College London
,
Vancouver
on March 8, 2020 by xi'an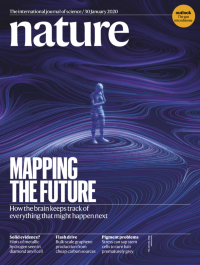 In the latest Nature issue, a long cover of Asimov's contributions to science and rationality. And a five page article on the dopamine reward in the brain seen as a probability distribution, seen as distributional reinforcement learning by researchers from DeepMind, UCL, and Harvard. Going as far as "testing" for this theory with a p-value of 0.008..! Which could be as well a signal of variability between neurons to dopamine rewards (with a p-value of 10⁻¹⁴, whatever that means). Another article about deep learning about protein (3D) structure prediction. And another one about learning neural networks via specially designed devices called memristors. And yet another one on West Africa population genetics based on four individuals from the Stone to Metal age (8000 and 3000 years ago), SNPs, PCA, and admixtures. With no ABC mentioned (I no longer have access to the journal, having missed renewal time for my subscription!). And the literal plague of a locust invasion in Eastern Africa. Making me wonder anew as to why proteins could not be recovered from the swarms of locust to partly compensate for the damages. (Locusts eat their bodyweight in food every day.) And the latest news from NeurIPS about diversity and inclusion. And ethics, as in checking for responsibility and societal consequences of research papers. Reviewing the maths of a submitted paper or the reproducibility of an experiment is already challenging at times, but evaluating the biases in massive proprietary datasets or the long-term societal impact of a classification algorithm may prove beyond the realistic.